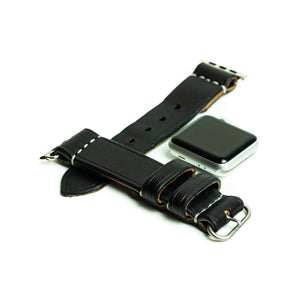 SoMa Watch Band (Classic Watch) - Black
The SoMa band is inspired by one of SFs most elegant boroughs, easily found by the skyscraper dancers. Known for brilliant views of the Bay Bridge and the next door neighbor to where you can find a certain North Carolina kid who is repping the Golden State on the basketball scene. 
Hand-built for the entrepreneur, visionary, idealist and "already late for my meeting tomorrow" business professional who gets shit done and dresses the part. This is quality at its finest with handset crease lines, adding a touch of opulence. Hand-burnished edges ensuring a smooth look; a subtle reminder that no detail should ever be overlooked. Last but not least, this piece is completed by using not one but two saddle stitches per seam to ensure a lifetime of wear. 
So lets be honest, you've been thinking about that band that you've been wanting to replace and we both know its time. 
Info
Fits Wrist: 5.5"-7.75" (14cm - 19.7cm)
Hole Spacing: 3/8"
Silver Hardware: White Thread
Black Hardware: Black Thread