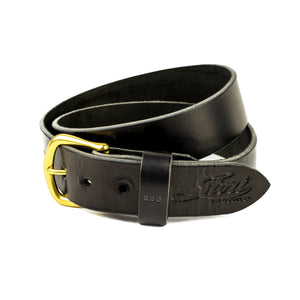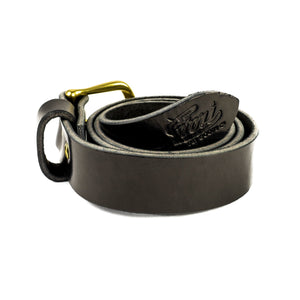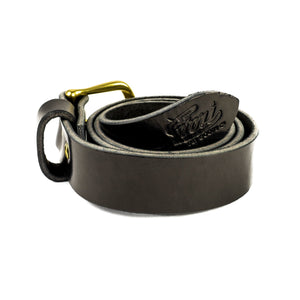 Camden Belt - Black
Camden Road runs through Charlotte's Historic Southend district known for its plethora of food, beer, shopping, and industrial design. Home to one of the first railways for Charlotte, dating back to the mid-1800s and is home to Charlotte's Light Rail trail which runs adjacent to Camden Road. This belt is designed to be a simple and timeless belt, taking inspiration from the old and new railways and utilizing sleek metal screws to accent the solid brass buckle. This piece is as durable as those railway tracks and built to stand the test of time; this is the last built you'll ever need to invest in.
8/10 oz

 Wickett & Craig Harness 

1.5" Wide
Available in 3 hardware options (Silver & Gold)
Free Monogramming 3 Characters (Placed on Belt Holder Loop)
How to ensure I buy the correct size?
- Unfortunately, pant/jean size often doesn't correlate directly to waist size. Please view the image on how our belts are measured and order the appropriate size once you've confirmed the measurement. If you are having trouble confirming the size please purchase a belt that is 4-5" larger than the pant size or 2" larger than the belt size.